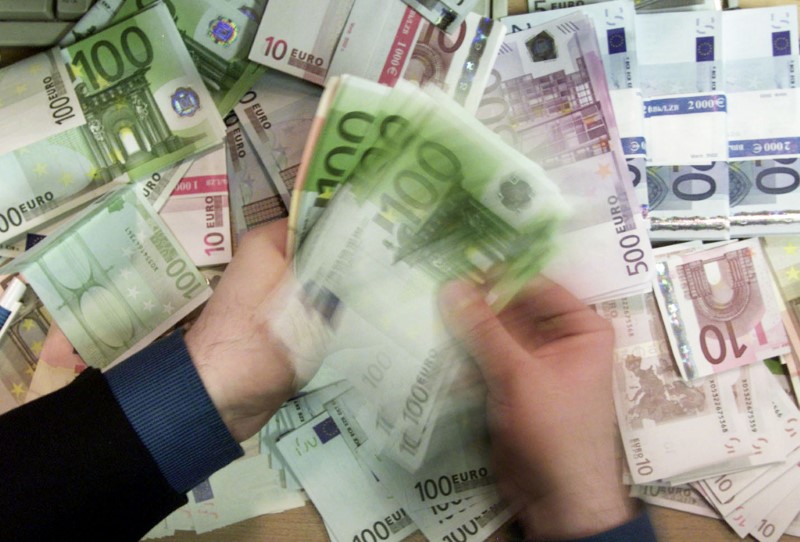 © Reuters. Pedestrians walk past the Bank of England in the City of London
By David Milliken and William Schomberg
LONDON (Reuters) – Britain's unemployment rate hit its lowest since 1975 but wages slipped further behind the cost of living, taking some of the urgency out of a Bank of England debate on when interest rates might rise.
But Wednesday's figures added pressure on the government to give more ground on public sector salaries, a day after Prime Minister Theresa agreed to ease seven years of pay constraints for some state workers but not others.
The BoE issues a policy statement on Thursday.
The fall in the jobless rate to 4.3 percent in the three months to July, when Britain created jobs faster than at any time since 2015, might embolden the minority of the bank's policymakers who are pressing the case for an early hike in borrowing costs.
But wages rose by a modest 2.1 percent, missing forecasts of 2.3 percent in a Reuters poll of economists and adding to other signs of weakness in the economy after last year's Brexit vote.
Sterling fell on the data as markets judged that the weak pay figures reduced the chance of the BoE striking a more hawkish stance on Thursday.
"Lagging wages makes it more likely the Bank of England will look through rising inflation when it decides on interest rates this week," said Ed Monk of fund manager Fidelity International.
"Prices are rising above target, which creates the case for raising rates, but today's wage data suggests all is still not right in the economy."
The rise in British inflation – which hit an annual 2.9 percent in August – is largely driven by the fall in the pound since last year's vote to leave the European Union. That has eroded households' purchasing power and led to a slowdown in consumer spending, the main driver of Britain's economy.
In real terms, wages have been falling since April and dropped by an annual 0.4 percent in the three months to July.
Part of the weak wage growth reflects a seven-year policy of public-sector wage restraint to help cut government borrowing.
Britain's government partially eased its grip on pay on Tuesday when it said it would no longer limit wage rises for police and prison guards to the 1 percent cap for the public sector.
But it has made no extra money available, and public-sector trade unions are considering coordinated strike action to push for pay rises greater than inflation.
POLICY QUANDARY
The figures also complicate the debate for BoE policymakers over whether to support a rate rise at their monthly Monetary Policy Committee meeting later on Wednesday. The outcome of the meeting is due to be announced at 1100 GMT on Thursday.
While the current lack of wage growth suggests the current acceleration in inflation will fizzle out, the strong growth in hiring suggests a pick-up in pay might not be far off.
Unemployment is below the level which the BoE expects to trigger faster pay growth. But it has been repeatedly wrong-footed before about how far British unemployment needs to fall without pushing up wages.
Last month just two MPC members backed a rate rise. A minority of economists expect BoE chief economist Andy Haldane will join them this week.
This would leave the MPC split 6-3 against lifting rates from a record-low 0.25 percent but would boost expectations about a move when the BoE updates its forecasts in November.
Most economists do not expect a rate rise until 2019, and think inflation will move only a little higher before slowly fading next year as domestic economic growth is subdued by Britain's looming departure from the European Union.
(editing by John Stonestreet)
sponsoredArticle = 'div-gpt-ad-1466339494851-0';